A simple primer on the Blessed Mother
This article was written exclusively for Knights.net, the members-only digital portal from the Knights of Columbus. Looking for more? Join the Knights of Columbus today.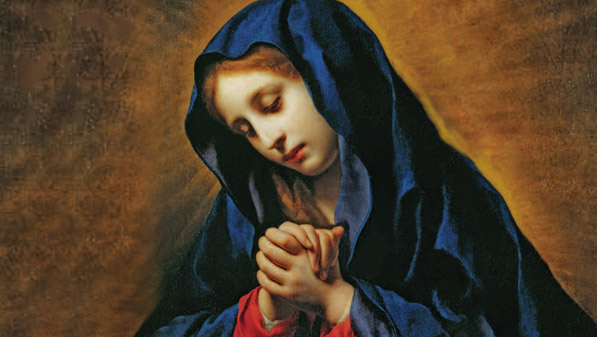 Where does Mary stand in your life? Does she play a major role as model and intercessor, or do you feel that Mary is more for women? Do you pray the rosary or do you think it too long and repetitious? Maybe you've never given these issues much thought.
Wherever you are in relation to the Blessed Mother, the following "5 Facts" will help you draw closer to her and Jesus. As Knights, we know that Mary is for men.
Mary protects — and points to — her Son. Don't misunderstand. Jesus, the Second Person of the Trinity, who will come to judge us on the last day and destroy the devil's work, does not need anyone to protect him. But the Church has always looked to the Blessed Mother as a sure way to understand and define the person of Jesus. When some in the early Church said that Jesus was just a man with the powers of divinity, the Church officially adopted the title Theotokos (Mother of God) for Mary, thereby saying that she gave birth to one person who, at conception and birth, was true God and true man. Her Immaculate Conception, the teaching that she was preserved from original sin by a special privilege of God, assures that Jesus could never have inherited that sin from her through his human nature. The traditional Latin saying — Ad Jesum Per Mariam (To Jesus through Mary) is not a pious platitude. It teaches us that just as Jesus chose to come to us through Mary, so everything we need from Jesus today comes in its purest form through Mary.
She 'bookends' the Bible. Although her name does not appear, Mary shows up in hidden form in the first and last books of Scripture. In Genesis, the Church sees her as the woman who is at "enmity" with the serpent and whose offspring will "strike at" the serpent's head (Gen 3:15). In Revelation, the Church relates her to the "woman clothed with the sun" who gives birth to a child destined to rule the nations (Rev 12:2-5). Mary's motherhood is central to the salvation of the world, and by her special relationship with Jesus she is able to bring those who pray to her closer to her Son.
The rosary is a 'weapon'. Knights of Columbus receive a rosary when taking the First Degree. It is a sign of our devotion to Mary and we promise to carry it with us and pray on it often. Some people, even Catholics, think of the rosary as a repetitive or boring prayer. But the fact is, the rosary is a beautiful song of praise and petition offered to God through Mary. It is also a "weapon," according to many great saints, who see in its repetition the weaving of a protective garment against interior pride and exterior attacks of the devil.
Mary is the greatest saint. Some Protestants think we Catholics worship Mary and place her above God. Never. Mary is a human person, a creation of God, as we are. But she is the greatest of created persons, and stands as the highest of saints. We do not worship Mary — never do we offer her the praise and honor due to God alone. We venerate, reverence, love and honor her as God's most perfected creature whom he has exalted above all others. Jesus chose her as his mother; we would be remiss not to offer her our most elevated reverence. The early Church was clear about this: we offer God worship (latria), we offer saints reverence (dulia), we offer Mary, the greatest of saints, the highest reverence (hyperdulia).
Mary has appeared. We all love miracles, when the normal order of nature is suspended and a ray of God's light breaks through. Mary is a woman of miracles. On earth, she was the catalyst for Jesus performing his first public miracle at Cana (John 2:1-12). Now in heaven, countless miracles have been attributed to her intercession, and the Church has approved the validity of a number of events in which she appeared, such as at Guadalupe, Lourdes and Fatima. In her humility, she has come not for her own glory, but to lead us to God, and to give us firm but motherly warnings about the need to pray, do penance and avoid sin.
These "5 Facts" only scratch the surface about the Blessed Mother. There are many more things about Mary to cover — such as the Immaculate Conception, the Assumption, the miraculous tilma image, the secrets of Fatima — so that Knights may know her better.
Watch a Knights of Columbus video with rosary priest Father Donald Calloway talking about this special prayer.