Remarks of Supreme Knight Carl A. Anderson
6/13/2015
"These champions of the first evangelization reach across time
to inspire us to take up a new evangelization"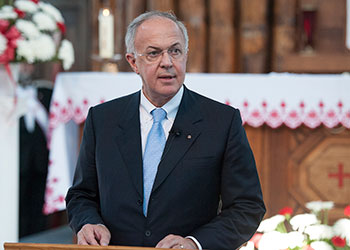 There are special places around the globe where the spiritual history of the world unfolded. These places are holy ground. We think of St. Peter's Basilica in Rome, built atop the burial place of our first pope, of Tepeyac Hill where Our Lady of Guadalupe appeared and changed the course of evangelization for an entire hemisphere, and today we think of Auriesville, where the blood of martyrs brought forth within a single generation a lily — St. Kateri Tekakwitha — from the people who spilled that blood.
What happened here was a fate every missionary to the New World knew was not just a possibility, but a probability. As St. Isaac Jogues wrote to a colleague in France, "I shall go, but I shall not return." Martyrdom for these brave men was not an abstraction. And yet they came.
And, in the case of St. Isaac Jogues, even after being tortured, he came back. And then he came back a third time — when the ultimate sacrifice was exacted. Little wonder the Mohawks called him "the indomitable one."
Places like Auriesville are spiritual heritage sites. They are holy places where people changed the spiritual future of our nation. The history of America is incomplete without the memory of such places — and especially of this place. Here, the New World was made truly "new" because the Gospel message was proclaimed: sometimes by preaching, other times by living, and in the end by dying.
When we remember what the missionaries did on this continent, we encounter an immense truth. As St. Irenaeus tells us: "the glory of God is man fully alive."
What does it mean to be "fully alive" in this way? It means to live a life that overflows with such love of God and love of neighbor that no evil on earth can triumph over it.
In the Spiritual Exercises of Ignatius we are invited to make this prayer: "Eternal Lord of all things, I make this offering with thy grace and help… to imitate Thee in bearing all injuries, all evils, and all poverty both physical and spiritual, if Thy Sacred Majesty should will to choose me for such a life and state."
The men who died here prayed that prayer many times.
They laid down their lives for those they loved, even when those whom they loved brought about their death.
St. Isaac Jogues returned here, after he had been brutally tortured, his fingers bitten off, made to run the gauntlet. And what impressed his former captors most? That he loved them.
Across the country, we learn a similar lesson from Blessed Junípero Serra, the Apostle of California, whom Pope Francis will canonize this September in Washington, D.C.
When his confrere was murdered by Native Americans, Father Serra successfully argued against the death penalty for those responsible. Such a punishment, he said, was not consistent with the witness to the Christian faith.
The heroic life of each missionary martyred here is a witness to all of us. Two of the three missionaries killed here were not priests; they were laymen — John Lalande and René Goupil. Their sacrifice was no less important, and no less demanding.
Today, we remember as well our Huron brothers in the faith — Paul, Stephen and Eustace — who also suffered here at the hands of the Mohawks for their faith.
We live on a continent that met Christ through the tireless, selfless work of missionaries and this encounter, more than any other attribute, is what unites our continent — from the Canadian and Alaskan arctic to the tip of Argentina.
Today, too many have forgotten these missionaries and their witness. But on this day we re-dedicate ourselves to cherishing the treasure that they left us.
The example of America's heroic missionaries calls out to us to live lives of Christian witness. These champions of the first evangelization reach across time to inspire us to take up a new evangelization. As Pope Francis has written: "All of us are called to offer others an explicit witness to the saving love of the Lord" (Evangelii Gaudium, 121). Today, we honor the French Jesuit martyrs of this place as supreme examples of that saving love.
We are pleased to join with our brother Knights of Columbus throughout New York to help renovate the shrine of these great martyrs. Soon, a spiritual son of St. Ignatius will visit our country. Pope Frances reminds us that "every Christian is a missionary" and that all of us are called to be "missionary disciples" (Evangelii Gaudium, 120).
If we answer this call, then the most enduring shrine to the martyrs of this place will not be made of bricks and timber. It will be those pilgrims who leave this place renewed with a spirit of missionary discipleship.