All About Your Guardian Angel
Contact Us
Don't look now, but you've got company
This article was written exclusively for Knights.net, the members-only digital portal from the Knights of Columbus. Looking for more? Join the Knights of Columbus today.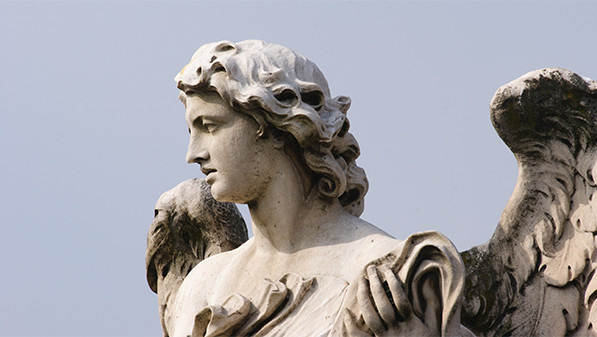 by Mike Aquilina
Do you believe in guardian angels? Of course you do. Jesus said they exist (Mt 18:10). The Scriptures elsewhere testify to their existence (Acts 12:15 and Ps 34:7, not to mention the entire Book of Tobit). On Oct. 2, the Church observes the feast of the Guardian Angels.
So we kind of have to believe in them if we're going to be Christian.
But do you really believe in guardian angels? Blessed John Henry Newman made an important distinction between "notional assent" and "real assent." We give notional assent to a doctrine when we accept it on principle. We give real assent when we choose to live it out in a concrete way.
These are not mutually exclusive categories. When we give one kind of assent, we strengthen ourselves for the other. Our belief should lead us to act. Our actions should fortify our belief. When it comes to angels, most of us need to get real. We recite the Nicene Creed every Sunday and profess our belief in God as creator "of all things visible and invisible," and maybe we have a passing awareness that we're talking about angels there. But what difference does it make?
But really, it makes a world of difference. Think about what a guardian angel is. It's a pure spirit created by God for two purposes:
(1) to give glory to God, (2) to serve you.
That angel has been created for your sake, to make you truly happy and to get you to heaven. And God has given him everything he needs to fulfill his mission. Your guardian angel is a powerful spiritual being who wants you to succeed at parenting. When you feel baffled, he has the answers. When you wish you had a little bit of help, he's waiting for you to call upon him.
Do you call?
Our Catholic tradition guides us in devotion to our guardian angels. Maybe you learned the little prayer when you were a kid:
Angel of God, my guardian dear,
To whom God's love entrusts me here.
Ever this day be at my side,
To light and guard, to rule and guide.
Amen.
If you're still saying that prayer, more power to you (quite literally). You're keeping open a line of communication and you're establishing the habit of working with this supernatural help. You're making yourself aware of your angel's presence and sensitive to his subtle promptings. The more you do that, the more you're likely to pick up on his guidance, which can't be seen or heard in the way human communications can. Of course, there's nothing magical about the form of the prayer. Traditional prayers become traditional because they express things well and memorably. But we can talk to our guardian angel using our own words.
Remembering guardian angels is especially important for parents. When we're beginning to lose patience with a child, we can ask our guardian angel for help. If the situation keeps getting worse, we can call on our kids' guardian angels as well. In fact, the system works best if we greet each child's angel (silently, in your heart) each time the kid strolls into our presence. Greet your wife's, too. You'll find that it changes the way conversations (and disagreements) proceed. Suddenly it's not just one-on-one. You have heaven's helper, who is subtler and more effective than most guys tend to be.
If you've never done so, say hello to your guardian angel and thank God for giving you this powerful protector and personal guide through life.
(Watch this clip from the classic "It's a Wonderful Life." You can bet that your angel already has his "wings.")
About the Author
Mike Aquilina is executive vice-president of the St. Paul Center for Biblical Theology. He is author of more than 30 books and co-host of eight series on EWTN.
Articles