Products and Rates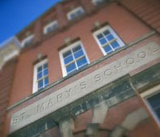 Fixed rate of interest

Maturities from five to 20 years

First mortgage lien on all real property and improvements

Loan-to-value ratio up to 75 percent

Guarantee from the diocese or religious order.
Unsecured Loan
Fixed rate of interest
Maturities of up to 5 years
Requires a negative pledge agreement
Maximum loan request of $500,000
Guarantee from the diocese or religious order.
Refinancing
ChurchLoan is available to consolidate and/or refinance existing debt for eligible Catholic institutions. ChurchLoan rates are competitive. If your institution is considering refinancing existing debt, contact a ChurchLoan professional today for our latest rates and loan information.
Rates and Underwriting
The length of underwriting a ChurchLoan varies from applicant to applicant. A complete application and your cooperation will help speed up the approval process. The interest rate for your loan is set as of the close of the last business day of the week prior to funding. To request information about current rates, please contact ChurchLoan.