2015 College Councils Conference
This October 2-4, the Supreme Council will celebrate 50 years of the College Councils Conference. We look forward to welcoming you and your council to New Haven, Conn. Please see the main events for our 50th College Councils Conference for more information.
REGISTRATION FOR THE 2015 COLLEGE COUNCILS CONFERENCE IS NOW OPEN!
Outstanding College Council Award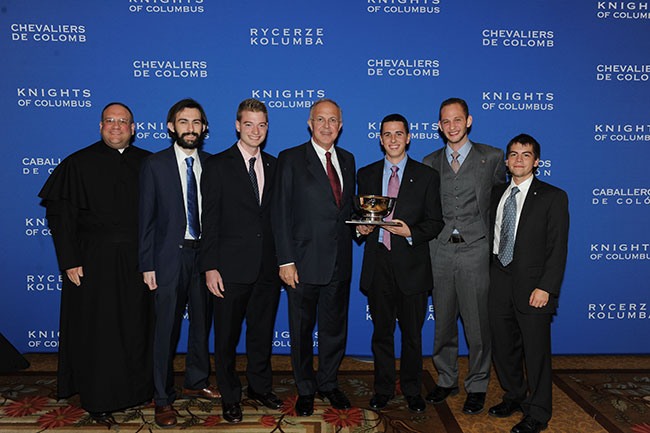 The Supreme Council annually awards the prestigious Outstanding College Council Award to the college council that best exemplifies the mission and ideals of the Order and has, in a unique way, gone above and beyond to make a difference on campus and in the surrounding community. The winning council receives a trophy, a $500 check for the council treasury, and coverage through various Knights of Columbus media outlets.
Each college council should annually complete the Outstanding College Council Award Application. The application is due at the close of the fraternal year on June 30. Click here for more information on the Outstanding College Council Award and a list of past winners.
2015 Outstanding College Council Award Application
College Council Newsletter – Late Spring 2015
Our latest newsletter announces the upcoming College Councils Conference and prepares you and your council for summer break.
Read More
|
Download pdf
Mission:
The mission of the Knights of Columbus College Council Program is to promote the moral, intellectual and spiritual development of the future leaders of civil society, the Order, and the Church through witness to the Gospel and dedication to the principles of charity, unity, fraternity and patriotism.
If you are interested in starting a college council on your campus, Contact Us.
Employment Opportunity:
Are you a recent graduate? Do you want to make a difference?
Watch a couple of our new agents share their experience.
Learn more about a career as a Knights of Columbus field agent.