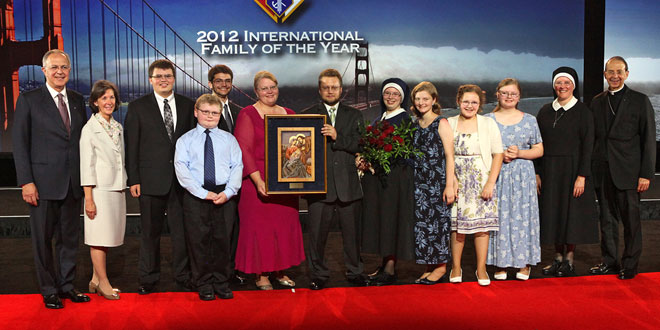 2012 International Family of the Year
Donald Paul and Marcia Gilbert family
Father Patrick Creed Council 12923
Campbellsville, Kentucky
The Knights of Columbus is the world's largest family fraternal organization. Families are the foundation of all that we do to help others. We recognize the importance of the family each year as the highpoint of this awards session when we announce our international family of the year.  Each year, we receive nominations from our jurisdictions around the world.  Picking five finalists is extremely difficult, and selecting a family from among them to receive the top award sometimes seems all but impossible. The choices are all amazing examples of what it means to be a Knights of Columbus family.
This year's fourth Runner-up is the Carlos and Raquel Ramirez Family, of Hebbronville Council 2810 in Hebbronville, Texas.
Third runner-up is the Richard and Valerie Martinez Family, of Nuestra Senora del Rosario Council 10517 in Santa Fe, New Mexico.
Second Runner up is the Ken and Deborah Verkest Family of St. Hubert's Council 11658 in Harrison Township, Michigan.
And the first runner-up is the Kevin and Susan Breil Family, of John F. Kennedy Council 5488 in Mosinee, Wisconsin.
We congratulate these families for the powerful example they provide to their brother Knights and families, their parishes and their communities.
Now for our International Family of the Year.
Upon learning of his family's being named the state council family of the year, the family's father said that he really did not want to be recognized for all that he does,  he said "I am doing this because I am very proud of my family, my parish and my council." This outstanding Knight, husband and father has plenty to be proud of.
The father of our family of the year – Paul as he is known to his friends and family -- joined the Knights of Columbus in December 2008 (center) and has served as the council recorder. Along with his involvement in the council he has also undertaken numerous volunteer projects including building a new shower for the school bathroom that can be used by visiting youth groups. His work on this saved his parish thousands of dollars. In addition is the chairman of the council's parish coat drive. He and his wife work at the annual Thanksgiving Social.
Paul served as a Catechist for the Confirmation class and has been a teacher for children making their First Communion. He regularly works with the parish youth group and has taken the young people to a local nursing home to sing Christmas carols for the residents. He also helps to chair the council's bowling/pizza party for altar servers and youth group members in celebration of Vocations Sunday.
This dedicated father and his entire family worked to redecorate the parish church including refinishing and staining the altar.
This exemplary family's mother, Marcia, is also as involved as her husband. Along with homeschooling all of their seven children (who range in age 21 to 8), she is also the director of a local crisis pregnancy center and also regularly speaks publically about the center's work and the culture of life. Marcia works hard at fundraising for the center and the entire family all assist in her efforts including having created a Web site for the center that they continually update.
Sarah, the oldest daughter, is now Sister Cecilia, a Novice with the Sisters of St. Joseph the Worker. She works with young adult groups where she speaks about vocations. She also helps maintain the community's Web site.
Daniel, the eldest son, is an altar server who is looking to apply to the Archdiocese's seminary program. He is a youth group leader and earlier this year journeyed to Washington, D.C. where he participated in the annual March for life. In addition he teaches third and fourth grade religious education and helps to train altar servers. Among his other recent accomplishments was being involved in a Habitat for Humanity build, and becoming a member of his father's Knights of Columbus council.
The second son, Dominic Anthony is also an altar server, a member of the youth group and assists in older brother in teaching religious education. He sings in the parish choir and regularly joins his father and brother in the council's annual candy drive for people with intellectual disabilities.
Sisters Hannah Grace and Christian Marie are involved in the parish youth group and both received their Confirmation in April.
The youngest children, Zoe Catherine and Jared Paul regularly pitch in to help their parents and older siblings on family projects.
It should be noted here that all of the children – in addition to their other accomplishments – have also all earned belts in Tae Kwon Do.
As the nominating grand knight said this family serves as an outstanding example – even in the face of monetary and medical difficulties – of Catholic faith and Catholic charity. As the grand knight wrote in the nomination: "…it is my humble opinion that the Catholic Faith is much better off for this family's sacrifices and good works."
We now ask Kentucky State Deputy William Schmidt and his wife Kim, to join Past State Deputy Richard Arnold and his wife Celesta, in escorting the Donald Paul and Marcia Gilbert family of Father Patrick Creed Council 12923 in Campbellsville, Kentucky, so that they may be recognized as the Supreme Council 2012 International Family of the Year.