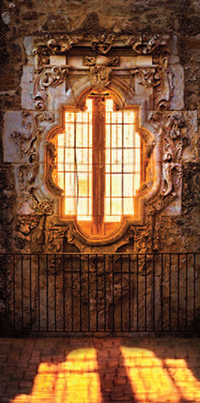 More than 140 college Knights, representing 67 colleges and universities, attended the September 2012 College Council Conference at the Knights of Columbus Supreme Headquarters. Catholic University of America Council 9542 in Washington, D.C., received the award for highest net gain in membership with 57 new members. Loyola University Council 15278 in Chicago, Ill., earned the award for highest percentage gain in membership by expanding its roster by 50 percent.
CUA Council 9542 and U.S. Air Force Academy Council 8200 in Colorado Springs, Colo. - were each recognized for adding 11 new insurance members. The award for highest percentage gain in insurance membership went to Council 15294 at Southeast Missouri State University in Cape Girardeau, Mo., with growth of 13.3 percent growth.
The Church Activity Award
Council 13295 at the University of Maryland in College Park, Md. - Working with their chaplain, Knights hosted monthly dinners to assist students in the discernment of their vocations. Guest speakers included prominent Catholic laymen and members of the hierarchy, including Cardinals Donald Wuerl and Edwin O'Brien. These "Vianney Dinners" - named in honor of St. Jean Vianney, patron of priests - helped young men to grow in their faith and deepen their bonds of fraternity.
Community Activity Award
Council 15064 at Louisiana State University in Baton Rouge - Recieved for a literacy initiative. Aware that 20 percent of their local population lacked basic reading skills, the Knights worked with community leaders and pastors to assess which schools and libraries had the greatest need for books. They enlisted support from two local high school service clubs and contacted newspapers, radio and TV stations to increase awareness. Partnering with schools, bookstores and businesses, the Knights collected and distributed more than 4,300 new and gently-used books to needy classrooms at local high schools, overwhelming teachers with the generosity of the community.
Council Activity Award
Council 14188 at Harvard University in Cambridge, Mass., - for the development and implementation of a spiritual formation program which included prayer, fasting and alms-giving during Lent. Each member of the council resolved to complete a 33-day preparation for consecration to the Blessed Virgin Mary according to St. Louis-Marie de Montfort. In addition to their private prayer and shared spiritual reading, members of the council fasted every Wednesday and organized corporate communions during each Friday throughout Lent.
Each week, they organized service projects to assist their pastor and hosted a series of guest speakers, including Dr. Peter Kreeft and Dr. John Garvey. The experience led to spiritual and intellectual development as well as strengthened bonds of fraternity among the members.
Family Activity Award
Council 14987 at the University of Northern Iowa in Cedar Falls, Iowa, - earned for partnering with Concerns of Police Survivors, or "COPS" — an organization that provides financial support and counseling to the families of law enforcement officers who lost their lives in the line of duty. The council organized fundraisers to allow the families of two local police officers to visit the national police memorial and attend the annual police memorial service in Washington, D.C.
Youth Activity Award
Council 2782 at the University of Illinois at Urbana - Champaign - At the request of their state council, the Knights planned and hosted the state Squires' annual convention. During the weekend event, the council organized meals and hospitality, provided a speaking program and conducted an awards banquet to recognize the achievements of Squires circles from throughout the state. The council arranged for a Fourth Degree honor guard for the Mass and provided a valuable example to the Squires about remaining involved in K of C activities and their Catholic faith while in college.
Culture of Life Activity Award
University of Notre Dame Council 1477 in South Bend, Ind., - for raising more than $13,250 to qualify for a matching grant from the Supreme Council to provide an ultrasound machine for the Women's Care Center, a local pro-life pregnancy resource center. The council also raised more than $78,000 for a variety of other charitable causes. More than 100 members cooked and sold steak sandwiches at home football games - a fundraiser that became an important part of campus culture.
Outstanding College Council Award
Council 10624 at Texas A&M University in College Station, Texas - Members completed the total renovation of a local parish's garage, which had fallen into disrepair. After stripping the building down to the studs and foundation, they built new walls, installed a new door and window frames and weatherproofed the finished structure. The council also helped a single mother and her children transform a rundown rental property into a home where family could thrive. Additionally, when a brother Knight deployed by the U.S. Army approached the council with a request from his chaplain, the members secured hundreds of holy cards, religious medals, rosaries, scapulars and copies of the Catechism of the Catholic Church and shipped them to Afghanistan for use by the armed forces.
This council hosted a number of social events throughout the year to promote fraternity. It also co-hosted a retreat for the faith formation of boys in their community and stood vigil during every overnight shift — 11 p.m. to 7 a.m. — of their local "40 Days for Life" campaign. They collected more than two truckloads of baby supplies for a local pro-life pregnancy resource center, and they helped organize the first annual "Run for their Lives" 5K race, a fundraiser that netted $2,000 for scholarships benefiting pregnant and parenting students on their campus. The council also demonstrated excellence in membership recruitment. These awards only briefly highlight the charitable initiatives performed by the Knights of Columbus on college and university campuses. This dedicated and exemplary service truly models the Order's principles and traditions.