Star Council Award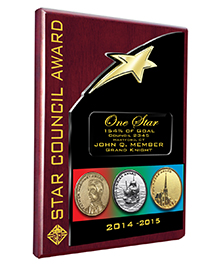 The Star Council Award is the highest distinction that a council may achieve, recognizing overall excellence in membership and insurance growth as well as in each of the Order's six service program categories.
During the 2012-2013 fraternal year, 1,014 councils achieved Star Council status.
As an incentive, grand knights whose councils attained Star Council status were entered into a drawing for a trip for themselves and their wives to the Supreme Convention.
This year's four representatives are:
Richard P. Tagorda of Council 8079 in Des Moines, Wash.
Luis E. Kamei of Council 15376 in Tucson, Ariz.
Mauro D. Songcuan of Council 11879 in Bellevue, Neb
Jose A. Zavala of Council 15448 in Brownsville, Texas
The five jurisdictions with the highest number of Star Council winners were:
Luzon - 93
California - 59
Florida - 55
Texas - 54
Illinois - 45
The Father McGivney Award, recognizing outstanding recruitment and retention efforts, was earned by 2,729 councils.
The Founders' Award, earned for insurance promotion and attainment of the council's insurance quota, was obtained by 1,948 councils.
The Columbian Award, presented to councils that have conducted at least 24 service program activities (four in each category: Church, Community, Council, Culture of Life, Family and Youth), was earned by 3,285 councils.
Star District Awards
District deputies are responsible for ensuring the growth of the Order, and the attainment of Star District status is their ultimate goal. The Star District Award is presented to district deputies attaining 100 percent or more of their district's membership and insurance quotas. A total of 450 district deputies qualified for the Star District Award during the 2012-2013 fraternal year.
The district deputies who attained Star District status during the fraternal year were entered into a drawing for one of four trips to the Supreme Convention.
This year's representatives are:
Edgardo R. Panes from District 23 in British Columbia
Angel Hernandez from District 44 in Florida
Timothy A. Helbling from District 10 in Louisiana
John C. Sprouse in District 51 from Ohio
The following jurisdictions had the highest number of Star Districts:
Luzon - 115
Visayas - 66
Mindanao - 65
Texas - 18
California - 18