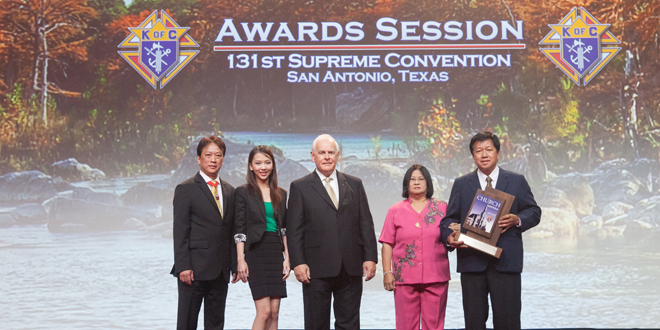 2013 International Church Activity Award
Marikina Valley Council 6178 Marikina City, Luzon: Sharing Our Faith: Construction of a Chapel for the Dumagat Ethnic Group - Members of Marikina Valley Council established a ministry to the Dumagat tribal community in the remote district of Paglitao. The isolated group is reached by a two-and-a-halfhour journey on foot along a mountain trail. The council's outreach to the Dumagat people included the construction of a Catholic chapel in the village at the cost of PHP 170,000 (U.S. $3,870). Knights provided emergency aid, including rice, canned goods, coffee, sugar, vegetable seedlings, and toys for the children at a cost of PHP 500,000 (U.S. $11,390).
The council also sponsored the work of catechists, who stayed in the village for months evangelizing the Dumagats, at a cost of PHP 50,000 (U.S. $1,139). Sixty-five council members participated in this ministry, collectively volunteering more than 3,600 hours of service which has assisted more than 900 people, through not only much-needed charity but also through the introduction of the Gospel and sacraments.