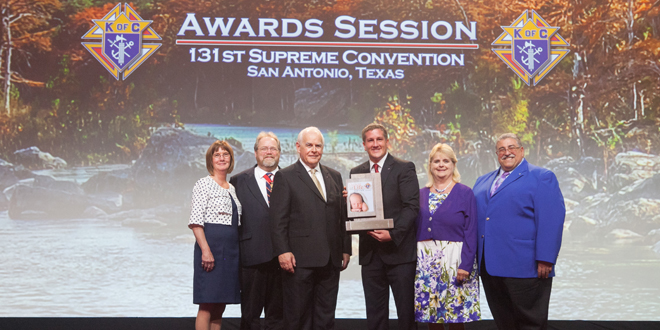 2013 International Culture of Life Activity Award
Naperville Council 1369, Naperville, Illinois: "Celebrate Life" Mass and Dinner - The Knights and families of the Naperville Council supported both the Waterleaf Women's Center—recipients of an ultrasound machine purchased through the Order's Ultrasound Initiative — and the Father Michael J. McGivney Center for Hope and Healing. One way in which they provided financial support was through their annual Celebrate Life Banquet. This year, 45 Knights spent nearly 3,000 hours planning the banquet, which raised more than $20,000 for these worthy organizations.
The event, attended by nearly 350 people, featured a Fourth Degree honor guard and presentations by the Illinois state chaplain and state deputy, as well as Relevant Radio personality Drew Mariani. It was preceded by Mass and resulted in five new Knights and two new Squires joining the Order.