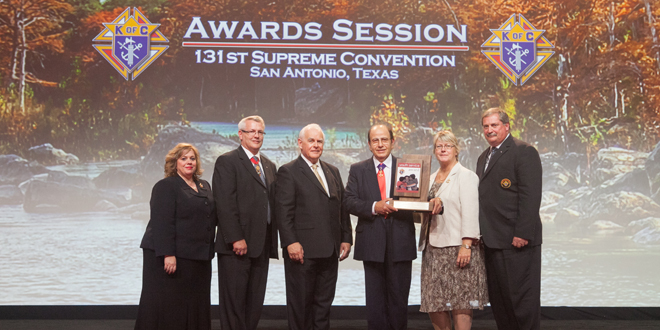 2013 International Youth Activity Award
Jesus the King Arab Christian Council 15045 Markham, Ontario: JerusalemStudents.org - The members of Jesus the King Arab Christian Council developed a program to help the Melkite Catholic Patriarchate in Jerusalem provide scholarships to needy children.
The program features a fundraising website— JerusalemStudents.org—which allows donors to sponsor the education of students in Beit Sahour, near Bethlehem. According to tradition, Beit Sahour is the location where angels appeared to the shepherds to announce the birth of Christ.
The present population is 14,500 residents, 80 percent of whom are Christians. Many Christians in the Holy Land live in poverty. This program helps provide children access to quality education and future economic opportunity.
The cost of supporting a child's education for a year is $500. Currently, 40 children receive educational support at the Greek Catholic Patriarchate School in Beit Sahour. Fifteen members of the council have participated in this program, contributing 730 hours of volunteer service.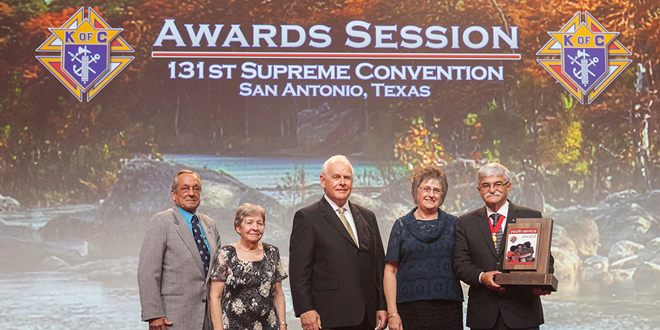 Donat Robichaud Council 9178 in Cap-Pelé, New Brunswick, "No to Bullying, Yes to Respect" - The Knights of Columbus in Cap-Pelé, New Brunswick, organized a campaign for schoolchildren called "No to Bullying, Yes to Respect!" Each student was asked to draw a picture of what intimidation means to them, and 12 drawings were selected for a promotional calendar. The calendars were sold for $5 each to raise awareness against bullying. The council also distributed "No to Bullying, Yes to Respect!" stickers for display. Working with their mayor, the Knights installed two signs at the entrance of the village to remind visitors that their community values courtesy and respect for human dignity. Six members of the council contributed 180 hours of volunteer service for this project.