Convention Continues Founder's Vision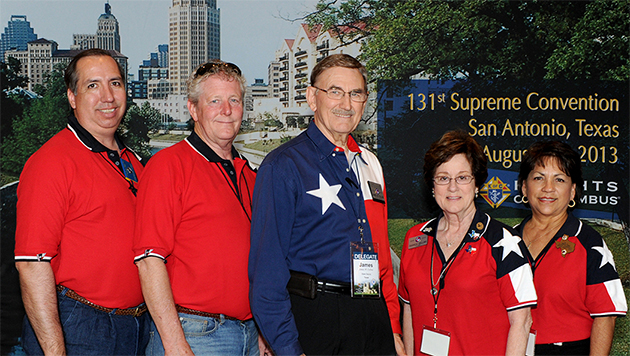 Photos
After planning for more than a year with his state council team, Texas State Deputy James W. Collins looked relaxed on Sunday afternoon as he sat almost unnoticed with his wife, Duchess, in the convention store.
"At least I get to sit down for a few minutes," he said. "Most of our work is already done. Now it's just a matter of letting everyone do their jobs and make sure that it all goes smoothly."
He added, "I am so proud to be a part of this event. I never would have thought that I would be in this position as state deputy, helping with this great convention."
Collins explained that he is a convert to the Catholic faith. His wife is Catholic and he would attend Mass with her. "One Sunday in our parish, we saw the Knights of Columbus Fourth Degree march in their regalia before Mass and my wife says to me, 'You need to be doing that.' I had no idea who these men were or why they were there."
With his wife's encouragement, he went through the RCIA process to enter the Church and soon afterward was a new member of the Knights.
"It's been an experience of a lifetime," Collins said. "I couldn't be more proud and happy of all that the Knights in Texas do. We're all about helping people, all in the spirit of Father McGivney. Texas is a big state, so one person can't do it all as state deputy. We have leaders all around the state, at the diocesan level, the district level, the parish level. It's all one team."
The convention co-chairman with Collins is Terry Simonton, Texas state secretary. "It's taken us both to pull together," Collins said.
His state deputy's message for the convention is simple: "Remember our founding, remember Father McGivney's vision. We were founded by a young priest who had a vision to serve those who were suffering and in need. This convention is carrying that vision forward."