Patriotic Degree Raising Money for Incarnation Dome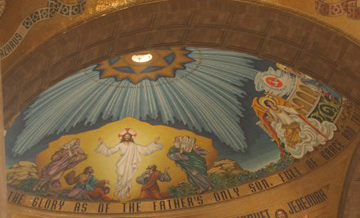 Fourth Degree Knights are raising funds to offset the cost of the Knights of Columbus Incarnation Dome at the Basilica of the National Shrine of the Immaculate Conception in Washington, D.C.
The Order committed $1 million to the dome, which was dedicated Nov. 17, 2007, and is challenging Fourth Degree assemblies to raise half of this amount.
Faithful navigators have mobilized their assemblies to fulfill this pledge, which is already off to a good start.
As of mid-February, Knights have raised more than $300,000 toward their $500,000 goal. A majority of the funds has been donated by Fourth Degree assemblies, though Knights have also received money from individual donors and from K of C councils with which the assemblies are affiliated.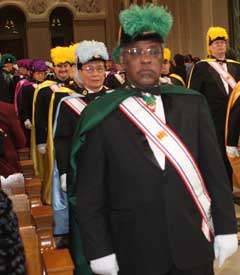 The drive began at the beginning of the 2007-08 fraternal year, when Fourth Degree Supreme Master Joseph P. Schultz sent a letter to new and reelected faithful navigators urging their support. In it, Schultz called the project a "unique opportunity to show our support for our National Shrine…."
Since then, Sir Knights have worked feverishly to get the program up and running.  As an incentive to participate, each assembly that contributes $1,000 or more will receive a photo of the finished dome on a personalized plaque.
The Incarnation Dome features in mosaic four biblical passages related to the incarnation of Jesus Christ. The Order has supported the National Shrine in various ways for nearly a century.
In 1957, it financed construction of the shrine's bell tower, dubbed the "Knights' Tower." The Order has also provided funds for a carillon of 56 bells and for various other projects.
For more information on the program, contact the office of the supreme master at 203-752-4437 or fill out our contact form.