Knights Lead New Haven's Columbus Day Celebration
10/7/2007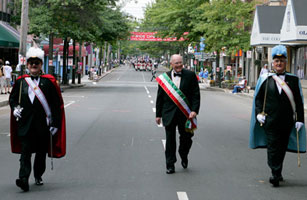 The Knights of Columbus were a big part of the 2007 Greater New Haven Columbus Day Parade. As a component part of its 125th anniversary celebration, the Order was the October 7 event's title sponsor.
Former Supreme Secretary Robert Lane, a New Haven native and member of San Salvador Council 1, served as the parade's grand marshal, and more than 200 area Knights marched in the parade. The contingent included Fourth Degree Knights from Connecticut and Rhode Island, the first two states in which the Knights of Columbus was established, the Council 126 Pipe and Drum Band from Brooklyn, N.Y., the Connecticut State Council officers, and Knights representing councils throughout the state.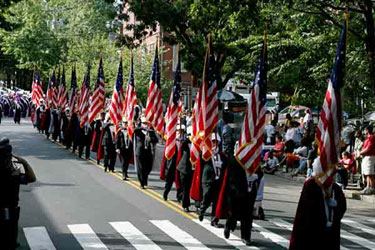 A color guard of seven Sir Knights presented the colors for the parade's first division, followed by 28 U.S. flags representing the "colors" of the nation throughout its history. The flags are part of the Knights of Columbus Museum's permanent display. Beginning with the unofficial "Grand Union" flag of Gen. George Washington's Continental Army, the 28 flags are a series of "Stars and Stripes" that culminate with present flag of 50 stars, which has been in use since 1960.
Though the Columbus Day parade is largely an Italian heritage celebration, it was a welcome place for New York's kilted Council 126 Pipe & Drum Band, which performed the famous Irish tune Minstrel Boy before the reviewing stand in the heart of New Haven's Little Italy. The band was formed in April 1991 with original 12 members, with little if any musical experience, it has more than doubled in size.
The Council 126 band has earned a number of honors and participates in approximately two dozen parades, ceremonies, and events each year. It has performed at Shea Stadium for the New York Mets, and is a mainstay of New York's annual St Patrick's Day Parade. The band also participated in Dublin, Ireland's St. Patrick's Day Parade in 2002.
For its entire 125-year history, the K of C has maintained its international headquarters in the New Haven. Its distinct four-tower office building, which overlooks New Haven Harbor and Long Island Sound, is a popular area landmark.
The Knights of Columbus Museum, located just a few blocks from the parade route, offers world-class exhibitions of art and history.
The Order, along with several other organizations, took part in a wreath laying ceremony October 6 in New Haven's historic Wooster Square. The wreaths were blessed in a ceremony at St. Michael's Catholic Church and processed to a large statue of Columbus in the Square's south end.
Father Michael J. McGivney, who founded the Knights of Columbus at St. Mary's Church, a few blocks from the parade route, chose Christopher Columbus as the Order's patron. The Catholic explorer is revered as a man of vision, courage, and missionary spirit.