'Food for Families'
11/25/2009
Knights of Columbus Announces $1 Million for U.S. and Canadian 'Food for Families' Program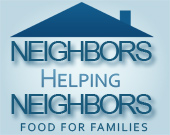 With the number of Americans and Canadians at risk of hunger far higher than usual and the number of those planning to give to charity at this time of year lower than usual, the Knights of Columbus has committed $1 million and legions of active volunteers to its "Food for Families" program to collect food and financially support food banks in the United States and Canada this winter.
Statistics released by the USDA show nearly 50 million Americans experienced "food insecurity" last year, while new numbers in Canada show those using food banks has increased by 18 percent in the past year.
The program encourages each state jurisdiction in the United States and each province jurisdiction in Canada to work with their local parish churches and other public places to collect food for food banks in their area. Those states and provinces in which a significant number of councils participate will then be allocated a portion of the $1 million fund for food banks in their areas.
There are approximately 9,300 local Knights of Columbus councils in the United States and about 2,100 in Canada.
"At a time when record numbers are at risk of hunger, and with fewer able to give financially to charity, the Knights of Columbus hopes this program will help both to alleviate the problem, and to encourage other religious and charitable organizations – as well as businesses and corporations – to conduct similar programs," said Supreme Knight Carl Anderson, who announced the program this morning.
"People may not be able to give a lot of money to Charity this Christmas, but many can give a can of soup to help their neighbors, and the Knights of Columbus are committed to providing them the opportunity to do so."
"Food for Families" is one of the many projects in the Knights of Columbus "Neighbors Helping Neighbors" initiative. The initiative began at a summit on volunteerism as a response to the economic crisis, which the Knights organized in New York City in February. That summit drew leaders from scores of the nation's top charitable organizations, including: The Salvation Army, Volunteers of America, United Way, Catholic Charities, Points of Light, the National Fraternal Congress, and scores of other groups.
As part of the "Neighbors Helping Neighbors" program, this winter, the Knights of Columbus will also provide "coats for kids" in need throughout the United States and Canada, and will ask the public to "help a child in need" with television advertising.
One of the nation's most active charitable groups, the Knights of Columbus members last year set records despite the weak economy by providing nearly 69 million hours of charitable service and more than $150 million to charitable causes. The organization has more than 1.75 million members worldwide – with the greatest number of members in the United States and Canada.