Learning to be Leaders
9/29/2013
Gathering in New Haven, Conn. for the 2013 College Council Conference, more than 120 Knights from over 60 campuses across North America were challenged to provide an authentic Christian witness on their campus communities.
After hearing from Supreme Knight Carl Anderson and New York Times columnist and author of Bad Religion Ross Douthat on Friday evening, Knights spent the weekend reflecting on their mission and purpose on their campus communities.
Louis Barbour, Vice President for Membership Growth, spoke about continuing the legacy of the Order's founder, Father Michael McGivney. "The Knights of Columbus is a lifetime commitment of service and family," he told them. "If only our councils knew what a difference they make! Each of you now are already making a difference."
He encouraged them to make the right choices in these critical years of their lives and to continue their dedication to service.
Father Robert Spitzer, S.J., Ph.D., President of the Magis Center for Reason and Faith, spoke on virtue, human freedom, and the spirituality ingrained in every person. You have a desire for "perfect and unconditional truth, love, goodness, beauty, and home."
He challenged them to seek these things out and to take the task seriously, warning that the college Knights "need to be ready to engage in a spiritual battle."
Father Spitzer told them to always maintain a spiritual regimen, to root themselves in prayer, and to find spiritually committed friends.
In breakout sessions, conference attendees explored the topics of membership recruitment, engagement and retention; best practices in council management; and excellence in charity and fraternity, honing their leadership skills and preparing them to better serve their councils and communities.
Michael Brewer, head of the college council program, reflected on the significance of being called "Knights" and on the Order's core principles of charity, unity, fraternity, and patriotism. "Acts of charity bring us closer to God," he noted, "because we see Christ in the poor."
"Are we fundamentally men of charity, men of self-gift and mercy to others?" Brewer questioned them. "Our faith is not just something we do on the weekends at Mass. We are not 'weekend warriors' for Christ."
Following the afternoon's session, the conference attendees had the opportunity to visit the nearby Knights of Columbus Museum and then gather at St. Mary's Church for the celebration of Mass. Father John Allen, O.P. serves as the principal celebrant for Saturday's vigil Mass. Director of Chaplains and Spiritual Development Father Jonathan Kalisch, O.P., was the homilist.
In his homily Father Kalisch made a call to action to the college Knights to reach out to those who don't attend Mass, who quit, who are complacent and indifferent. "You're fighting the good fight of faith," he said. "All of that takes audacity and courage. You and I are like our military brothers in the spiritual realm" who fight the good fight.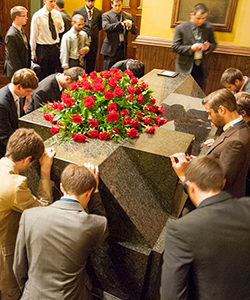 At the end of Mass, the participants gathered for prayer at the tomb of the Order's founder Father Michael J. McGivney located in the back of the church.
Sunday morning's closing session began with the praying of the rosary and then a series of speakers during breakfast.
Kevin Smith, program specialist at the Blessed John Paul II Shrine in Washington, D.C., briefed the attendees on the upcoming plans for the shrine and invited them to visit the facility when in the District of Columbia. He also urged the college Knights to start planning now to attend the 2014 March for Life.
Father Kalisch related his experience on how he first came to join the Order when he was a student at Georgetown University and how his experience with the Knights and especially with the college council chaplains, helped him realize his own vocation. He urged the gathered college Knights to invite others on their campuses to join, just as he had been invited.
"It's never too late to invite someone back to the faith," he said.
In his remarks, Deputy Supreme Knight Dennis Savoie also related his how he came to join the Knights of Columbus. With that he also offered three reasons why college Knights should continue their membership in the Order after they graduate: Access to a top-rated insurance program; belonging to a great fraternity through which you can enjoy the friendship of like-minded men; and the opportunity that membership to live your faith on a day to day basis.
"Stay connected to the Knights of Columbus," he said. "And invite your Catholic brothers to join us." The deputy supreme knight also said the Supreme Council would be rolling out some new initiatives in the coming months to allow college Knights to stay better connected to the Order after they leave school.
"I believe that each of us has a lot to share with our brother Knights back home," Kenneth Jordan, chairman of the 2013 College Advisory Board, said in the conference's closing remarks. "We all home to continue the legacy of our founder, Father Michael J. McGivney, through our witness of charity and hope to all."