Looking to the Future
9/27/2014
Gathering in New Haven, Conn., for the 2014 College Council Conference, more than 200 Knights from over 87 campuses across North America were challenged to provide an authentic Christian witness throughout their schools and communities.
After hearing from Supreme Knight Carl Anderson and author Kevin Coyne on Friday evening, Knights spent the weekend reflecting on their mission and purpose as college council members.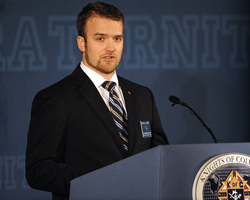 At Saturday's opening session, Conference Chairman Michael Alonso of Texas A&M Council 10624 welcomed the participants and introduced the College Councils Advisory Board. He reminded the college Knights of the Supreme Knight Carl Anderson's remarks at the awards banquet and the commitment of the Knights to the mission of the laity to live the Gospel through their actions. "The supreme knight asked us to profess what we believe, to profess what we know, and to live what we profess," Alonso said. "As I look around this room at leaders from universities across the continent, I am confident that each of you will help us to show that living the way of the Gospel is the best way."
Thomas Perretta Jr., manager of College Councils and Young Adult Outreach, spoke about the future of the College Council Program.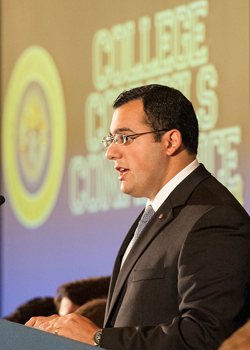 "This conference is about looking forward to new heights of charity, new levels of fraternal cooperation, and discovering the practical tools that will help us each to be successful," Perretta said. "Successful as council leaders. Successful as intentional and evangelical Catholics. Successful as college councils."
"This talk is titled the Future of College Council," Perretta added. "Our future for the next year should be the support and recommitment of each of our councils to growth. Growth in spirituality. Growth in charity. Growth in fraternity. So let us now commit to our work of realizing the potential impact of Father McGivney's vision on each of our campuses."
After the opening session the college Knights attended a series of breakout sessions, where they explored the topics of council management and leadership development, membership recruitment and growth strategy, running effective charitable programs, and best practices in social media.
Simultaneously held with these breakout sessions, was a meeting of the 13 attending college chaplains and a training session for the 18 financial secretaries in attendance.
In the early afternoon the college Knights split their time between sessions geared at various types of college councils. Moderated by the advisory board members, these sessions were then followed by panel discussions concerning communications on campus and in the community, spiritual development, alumni networking and membership post-graduation.
With the conclusion of the workshops and discussions, the college Knights traveled to the nearby Supreme Council headquarters building where they visited the chapel, the Fraternal Service Department and the executive offices. Afterward, the participants also had the opportunity to tour the Knights of Columbus Museum.
Celebrating Mass at the Order's Birthplace
After the tours were complete, the college Knights went to the birthplace of the Order, St. Mary's Church, for the celebration of Mass. Director of Chaplains and Spiritual Development Father Jonathan Kalisch, O.P., was the principal celebrant and homilist for the Mass. Among the concelebrants was Father Joseph Allen, O.P., pastor of St. Mary's Church.
In his homily, Father Kalisch described the formation that Knights of Columbus founder Father Michael McGivney sought in the fall of 1881: "He turned to older men, those in their thirties and forties of St. Mary's, gathered them, asking them how can we form a fraternity of communion that has a missionary fruitfulness, as Pope Francis would later say."
"...It was at this time in the fall that that hard work was being done, that Father McGivney was stirring up the hearts of the parishioners here to encounter Christ to gratitude because their lives were changed with a fraternal communion that also has at its heart a missionary fruitfulness," Father Kalisch continued.
"And so Father McGivney, at 29 years old, trying to stir up the hearts of the men who were there, trying to imbibe and invigorate, and perhaps this was what Pope Francis would describe as evangelizing the community, standing by them every step of the way, no matter how difficult or lengthy this may prove to be. That's what an evangelizing community is."
"As Pope Francis said: 'Evangelization consists mostly of disregard for constraints of time, faithful to the Lord's gift. It also bears fruit. It cares for the grape and does not grow impatient."
"You and I are called to live a fraternal communion with missionary fruitfulness that goes beyond our inner circles and goes to the heart of our campuses, that preaches and proclaims the Gospel of Christ. And it begins personally with the completion to heal, to make the changes we need in our lives and receive the mercy of God to be transformed and to go back into the vineyard, and to work, and to do the will of our Heavenly Father. Christ has saved you and me and he calls us to work in the vineyard."
During the Mass, advisory college Knights were servers (Peter Guthrie, Gonzaga University Council 12583; Nathan Baldwin, Pontifical College Josephinum Council 15009; Brett Garland, Pontifical College Josephinum Council 15009; and Bryant Haren, Pontifical College Josephinum Council 15009), readers (first reading: Michael Alonso, Texas A&M University Council 10624; second reading: Louis Cona, Georgetown University Council 6375; responsorial psalm: Colin Devine, University of Notre Dame Council 1477; and petitions: Curtis St. Pierre, Harvard University Council 14188), and gift bearers (Matthew DePaula, Louisiana State University Council 15064 and Thomas Samuelson, Fordham University Council 6077).
At the end of Mass, the participants gathered for prayer at the tomb of the Order's founder, Father Michael J. McGivney, located in the back of the church.
Bringing Lessons Back to Their Schools
Sunday morning's closing session began with the praying of the rosary followed by a series of speakers during breakfast.
Matthew St. John, manager of Marketing Services, discussed Father McGivney's founding vision and its relationship to the Order's insurance program, and the value it offers to young members and their families.
"So I hope that when the time is right, when you're looking for insurance protection for you and your family, when you're looking to begin planning for retirement, when you're looking to guard against illness and infirmity, I hope you will turn first, foremost, and always to the Knights of Columbus – your Knights of Columbus," St. John said. "We are here to protect you, just as Father McGivney intended us to be. That is a claim that no other company can ever make. We are the premier Catholic insurance company, and we are yours."
Director of vocations, Congregation of the Holy Cross, Father James Gallagher, offered remarks on discernment and becoming real men of God. Father Gallagher, pointed out that discernment is not just limited to becoming a religious, but it is rather finding your call to be men of God as fully as you can. Discernment, he said can be helped through prayer, through talking to others, and through action.
"Why talk about discernment for everyone?" Father Gallagher asked the gathered college Knights. "It's appropriate for everyone to consider that everyone has a vocation, a call, not just a call to a religious life. There is a place in God's work for every single one of us."
College Council Coordinator Robert Rauch delivered his closing remarks to the attendees, during which he noted that next year will mark the 50th College Councils Conference and will take place from October 2-4 in New Haven.
"Remember, that you and your brother Knights are the present. You are leaders today. Incorporate new ideas and best practices you learned this weekend to continue to make a difference on your campuses and in your communities," Rauch said. "Remember the fraternity you shared this weekend with brother Knights from across the continent. Continue to grow and strengthen the community on your campus. Give every eligible Catholic male at your university the opportunity to join our ranks."