Profile of Famous Knights from WWI
11/11/2018
By Andrew Fowler
More than 100,000 members of the Knights of Columbus participated in World War I.
This "war to end all wars" began July 28, 1914. Canada entered the war a week later, in August 1914, and among those soldiers were Knights. American Knights joined the war on April 6, 1917, when the United States declared war on Germany.
Here are some Knights who supported the war effort over a century ago.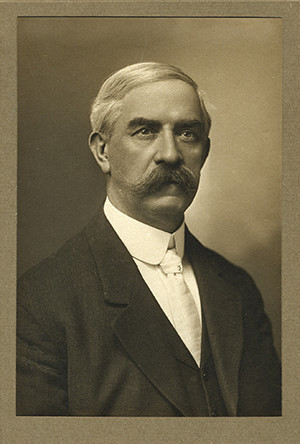 Supreme Knight James Flaherty
On May 23, 1917, Supreme Knight James Flaherty wrote to U.S. President Woodrow Wilson informing him that the Knights of Columbus intended "to establish centers for the large body of men who will be concentrated in training and mobilization camps … for the recreation and spiritual comfort not only of members of the Order and Catholics, but for all others, regardless of creed." Under his leadership, the Knights of Columbus launched a campaign to raise $1 million to fund this program, which received an overwhelming response and generated more than $14 million in 1917, equivalent to more than $734 million today. The Order maintained over 135 centers throughout the western and eastern war zones staffed by over 1,000 secretaries under the motto, "Everybody Welcome, Everything Free." In the U.S., the Order maintained approximately 493 facilities which were staffed by over 1,900 secretaries.
---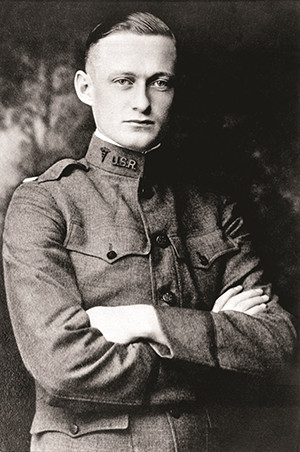 Lieutenant William Fitzsimons
Fitzsimons graduated as a doctor from the University of Kansas School of Medicine in 1912. When World War I broke out in the summer of 1914, Fitzsimons journeyed to France as a volunteer, using his medical talents to tend to the wounded. He returned to the U.S. in December 1915, but volunteered once again when the United States declared war in 1917. Fitzsimons was stationed at Base Hospital No. 5 in Pas-de-Calais in France. On Sept. 4, 1917, Fitzsimons was killed after a German plane bombed the hospital. He was the first American officer to die in WWI. President Teddy Roosevelt wrote about Fitsimons' death, "There is sometimes a symbolic significance in the first death in a war. It is so in this case. To the mother he leaves, the personal grief must in some degree be relieved by the pride in the fine and gallant life which has been crowned by the great sacrifice. We, his fellow countrymen, share this pride and sympathize with this sorrow."
---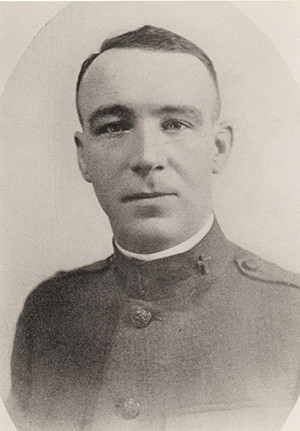 Father William F. Davitt
Father Davitt was one of more than 50 chaplains the Knights sent to France to minister Catholic soldiers during WWI and the last American officer to die in the war efforts. His ministry took him to the front lines of the battlefield. The French Army awarded Father Davitt the Croix de Guerre after leading a group of men to rescue 40 U.S. troops who were trapped in a ravine. He was killed by one of the last shells fired in the war, just over an hour before the ceasefire at 11 a.m. on Armistice Day, Nov. 11, 1918. Father Davitt was posthumously awarded, the Distinguished Service Cross for his efforts during the Meuse-Argonne offensive.
---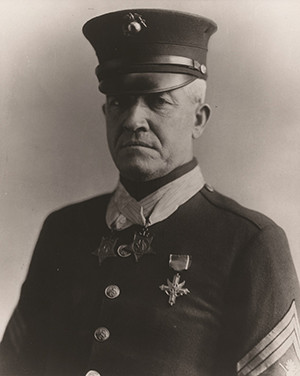 Sergeant Major Daniel Joseph Daly
Prior to WWI, Daly received two Medal of Honor awards. The first was for single-handedly holding a crucial position under enemy fire during the Boxer Rebellion in 1900. The second was for leading a charge against insurrectionists in Haiti as a gunnery sergeant in 1915. He is one of nineteen people ever to receive the Medal of Honor twice. For his actions in WWI, Daly received the Navy Cross, the Distinguished Service Cross, the Croix de Guerre, and the Médaille militaire. Before the Battle of Belleau Wood, he was quoted yelling, "Come on, you sons of bitches, do you want to live forever?" before leading a charge against a German machine gun nest.
---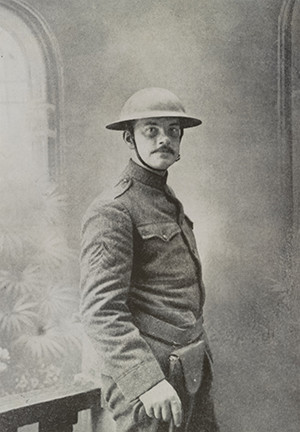 Joyce Kilmer
Kilmer wrote for The Churchman and The New York Times, and he is now arguably most well-known for his poem "Trees." A convert to Catholicism after marriage to author Aline Murray, with whom he had five children, Kilmer enlisted in the 7th Regiment and later transferred to 165th Infantry. In the war, Kilmer provided superior officers with intelligence on enemy deployments. He was killed by a sniper's bullet when leading a patrol to find enemy armaments during the Battle of Ourcq on July 30, 1918. The French Army awarded him the Croix de Guerre for bravery.Kilmer's Catholic faith did not falter during the war, as evident in his poem, "Prayer of a Soldier in France" in which he compares a soldier's efforts to Christ's Passion. A handwritten copy of his last poem, "The Peacekeeper," is on loan at the Knights of Columbus Museum in New Haven, Conn.
---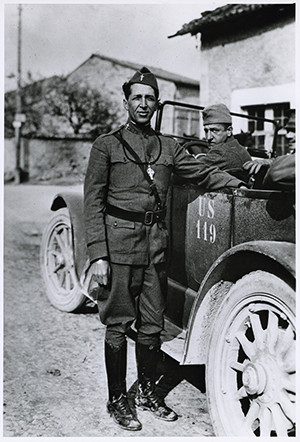 Father John B. DeValles
After volunteering for service, DeValles was appointed a Knights of Columbus chaplain with the 104th Regiment of the 26th Division of the U.S. infantry in September 1917. He would soon become known as the "Angel of the Trenches." His main job on the front lines was searching for wounded and dying soldiers, and served those regardless of their uniform – German or Allied – often exposing himself to gunfire. One day he did not return to the trenches and searchers found him, unconscious and wounded. DeValles returned home, but he never fully recovered. He died on May 12, 1920, at the age of 41 due to his wartime exposure to gas. He received France's Croix de Guerre for his bravery and was posthumously awarded the Distinguished Service Cross.
---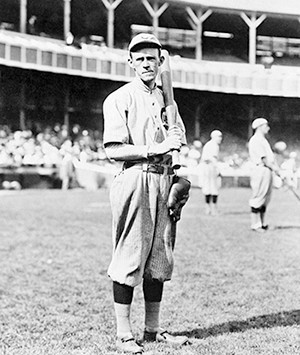 Johnny Evers
A Hall-of-Fame baseball player, Evers was the second baseman immortalized in "Baseball's Sad Lexicon," best known for the Tinker-to-Evers-to-Chance double-play combination. When soldiers weren't fighting or training, they wanted recreation, including baseball. The Knights soon "realized the necessity of sending a man to France who had played the game and knew how to teach it," read a comment in The New York Times, Aug. 28, 1919. "That man was Johnny Evers." When Evers wasn't visiting wounded doughboys, he arranged and umpired games between units. "I shall never have any other experiences as interesting as my work in France when I undertook to teach the poilus [French soldiers] how to play baseball," Evers later wrote in the March 1919 issue of Baseball Magazine.
---
In addition to these brave Knights, here is a complete listing of Catholic Chaplains and Knights of Columbus U.S. members killed in the conflict.
To learn more about the Knights' efforts during WWI, be sure to check out the exhibit on display at the Knights of Columbus Museum. Click here for details.
Andrew Fowler, andrew.fowler@kofc.org