Immigration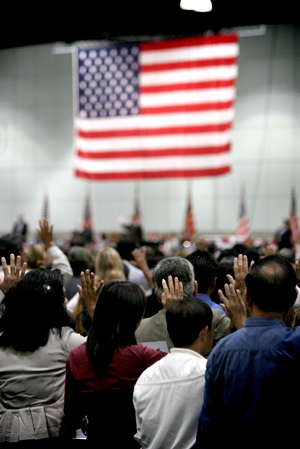 "The more prosperous nations are obliged, to the extent they are able, to welcome the foreigner in search of the security and the means of livelihood which he cannot find in his country of origin. Public authorities should see to it that the natural right is respected that places a guest under the protection of those who receive him." (Catechism, 2241).
Immigration reform is a difficult and complex issue from the civil and political point of view, but even more so from the human point of view. At its core, it involves ensuring the just treatment and defense of the human dignity of immigrants and their families. The Catholic community in the United States, including the Knights of Columbus, continues to welcome waves of new immigrants into our parishes, schools, and local communities, providing them with pastoral care and charitable assistance. It is our aim to support ways of regularizing their situation, especially with regard to the unification of families.
Most of the unauthorized flow of immigration into the United States comes from Mexico and other Latin American nations, where families often endure dire economic circumstances. Thus, the basic need to provide for the family has become one of the primary causes for unauthorized immigration flows in the United States. The situation is so desperate that many risk being apprehended for crossing illegally into the United States. Others attempt to reenter the United States again, even after being arrested and deported, in the hope of bettering their lives and the lives of their families.
The current immigration apparatus is, in the words of the U.S. Bishops, "woefully insufficient" to provide legal means for the foreign-born to enter the United States to live and work, and, most of all, to support their families. The Knights of Columbus stands with the Catholic Church in the United States in supporting legislation that seeks to remedy this situation. We support efforts to enhance the economic vitality of immigrant families as well as efforts to create a pathway to citizenship.
Consistent with the Catechism of the Catholic Church, the Knights of Columbus also recognizes government's essential duty to secure its border and enforce the rule of law. For the sake of the common good, political authorities "may make the exercise of the right to immigrate subject to various juridical conditions." (Catechism, 2241). But the enforcement of immigration laws must still guarantee respect for the human dignity of immigrants as well as the religious liberty of those who lend immigrants a helping hand. The Knights of Columbus encourages all Catholics, when considering immigration reform, to weigh honestly these various political and legal concerns, while also remaining steadfast in their conviction that immigrants are themselves endowed with human rights.