Parenting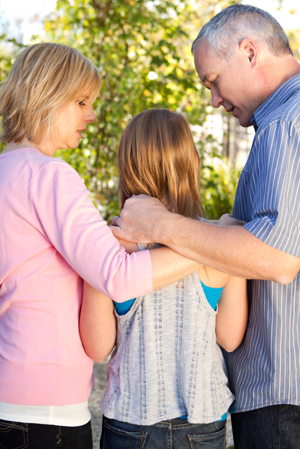 "Since parents have conferred life on their children, they have a most solemn obligation to educate their offspring. Hence, parents must be acknowledged as the first and foremost educators of their children. Their role as educators is so decisive that scarcely anything can compensate for their failure in it. For it devolves on parents to create a family atmosphere so animated with love and reverence for God and others that a well-rounded personal and social development will be fostered among the children. Hence, the family is the first school of those social virtues which every society needs." (Declaration of Christian Education, Gravissimum Educationis, 3).
The Knights of Columbus recognizes the family as having an indispensable role both in the life of the Church and in human society. The family establishes several interpersonal relationships through which each human person is introduced into the human family and into the family of God, which is the Church. Despite the variations of family structures existing in the secular sphere, we understand that no ideology can break the ironclad bond existing between the well-being of society and the healthy state of conjugal and family life. When families flourish, so do our communities.
As Catholics, we believe the family finds its design and purpose in the plan of God. In his Apostolic Exhortation Familiaris Consortio, St. John Paul II affirmed that "in God's plan, [the family] has been established as an intimate community of life and love…Hence, the family has the mission to guard, reveal and communicate love" (17). Every particular task of the family must be treated as an expression of this fundamental mission.
One important task of the family is the procreation and education of children, who are a living reflection of a couple's love and a permanent sign of conjugal unity. The Knights of Columbus therefore strongly promotes the irreplaceable right and duty of parents to direct the upbringing, care, and education of their children. We support legislation at all levels of government that protects parental rights, defends children from the first moment of conception, and expands the opportunity for children of all backgrounds to attend Catholic elementary and secondary schools.