Our Lady of Guadalupe Prayer Program
Our Lady of Guadalupe Prayer Program
Here are some suggestions to help your council in planning your council's participation in the Our Lady of Guadalupe Marian Prayer Program:
Once you find out from your jurisdiction's Marian Prayer Program chairman when your council is scheduled to receive the image, consult your chaplain and/or pastor about the service and set a place for the prayer service to be held.
Find council members and clergy for the various parts of the program.
Representatives from your council should attend the service at the council from which you will receive the image and bring the image to your council.
Instruct the congregation to say the prayers at a moderate pace to ensure the service is truly reverent.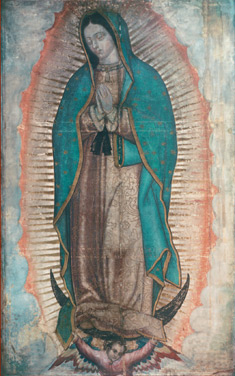 If possible, the choir leader should go over the hymns with the congregation before the service.
Collect prayer books after the service to be sent along with the image to the next council.
No money should be collected nor should any social activity be held in conjunction with the service.
Your grand knight should record the council's program in the logbook that accompanies the image before sending it on to the next council.
Additional copies of the prayer book and prayer cards used in the program can be ordered from the Supreme Council Supply Department.