Founder's Day - March 29
Founder's Day
On Founder's Day this March 29th, we celebrate the anniversary of the Knights of Columbus.
As we celebrate the legacy of Venerable Michael McGivney and the contributions of our brother Knights since 1882, we also prepare for an even greater future as we live out the vision of our founder.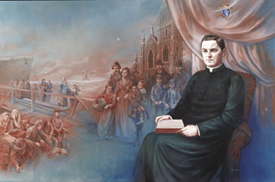 The anniversary of the realization of Father McGivney's dream is a cause for celebration.
Councils throughout the Order are urged to observe this day – among their own members and with the community at large – as a reminder of what the Knights of Columbus has accomplished in the past years, the ideals of the Order, and their own local achievements.
Tell Us About Your Programs
Help us improve the Service Program activities offered by the Supreme Council office by sending reports on your council's successful activities and/or any suggestions you may have on improving our programs. Send this information to Fraternal Services, Service Program Suggestions, 1 Columbus Plaza, New Haven, CT 06510-3326 or contact us. Please include "Service Program Suggestions" in the subject line.