Our Miracle at Lourdes
Contact Us
The story of my son's healing
This article was written exclusively for Knights.net, the members-only digital portal from the Knights of Columbus. Looking for more? Join the Knights of Columbus today.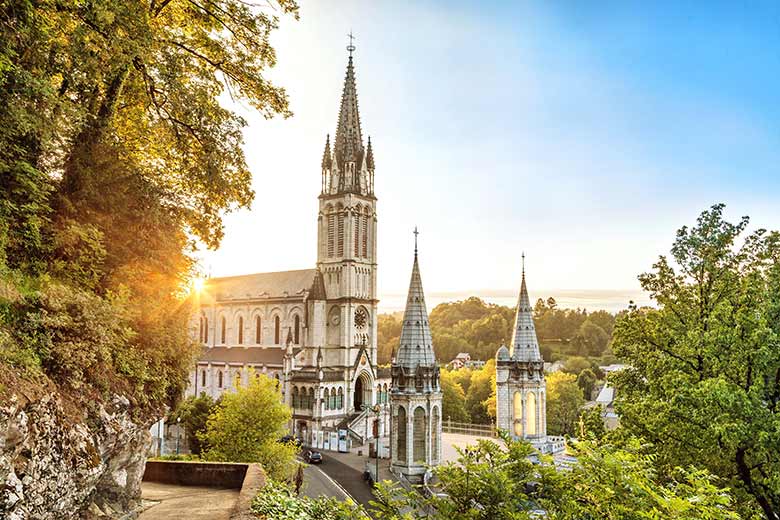 By Brian Caulfield
My firstborn son was healed of a heart ailment as an infant at the Marian Shrine in Lourdes, France.
I don't talk about this often because I've had this nagging notion that one day I'll wake up and realize that it didn't really happen and my son will be scheduled again for surgery. But Stephen is now a healthy college freshman, and the healing is real.
My wife and I have never submitted the details to the medical board at Lourdes because it was not the instantaneous healing they usually look for, but we only have to look at Stephen to know in our hearts that a miracle took place.
Stephen was born more than seven weeks premature on the feast day of St. Padre Pio (who was a Blessed at the time). He spent 10 days in the neonatal unit, where they detected a heart murmur. Tests revealed a mild coarctation. The word was unfamiliar and frightening to us at the time. Coarctation is a narrowing of the aorta, a condition that restricts blood flow and could lead to hypertension and stroke.
We got a second opinion, with the same diagnosis, and our son was scheduled for surgery at 7 months of age. By God's grace, we were accepted for a pilgrimage to Lourdes with the Knights of Malta, who each year charter a plane to bring sick children and their parents to the place where St. Bernadette Soubirous saw the Blessed Mother and unearthed a stream of healing water.
We got little Stephen a passport, flew to Lourdes with the wonderful assistance of the Knights and Dames, and immersed ourselves in the grace of the famous shrine. My wife dipped our child in the frigid water on two occasions, splashing extra on his chest for good measure, and we prayed for healing. We also took part in a healing Mass, an amazing candlelight procession, a visit to St. Bernadette's tiny home (a former jail cell), and many other activities during our week in Lourdes.
My wife had the distinct feeling that something had changed with our son. I was not sure, and thought that her hopeful emotions were natural for a mother who had gone through a high-risk pregnancy and an emergency delivery.
We returned home and a few days later had an appointment with the pediatric cardiologist, who performed the usual tests, this time in preparation for surgery. He spoke little and said he would call us later. We were puzzled and concerned. Had things gotten worse?
The cardiologist called that evening to say that he was taking Stephen off the surgery list for now. Too stunned to think, I told him not to let our hesitance sway him; we wanted the best for our son, and if that meant surgery, we would allow it. The doctor explained that the tests that day showed a marked improvement. He didn't say anything after the exam because he wanted to consult with colleagues before breaking the good news.
"Is this the miracle we prayed for at Lourdes?" I asked. He said that as a medical professional he didn't deal in miracles, but he had never seen such a rapid improvement of this condition.
Over the months, the coarctation continued to improve, so that a specialist at one of the nation's top hospitals said he could not detect any evidence of the condition.
Stephen was healed. The only explanation was Lourdes.
I tell this story to inspire faith and hope in others, as we approach the feast of Our Lady of Lourdes, February 11, which is also the World Day of the Sick. Not everybody who goes to Lourdes receives a physical healing. But everyone is healed in some way — spiritually, emotionally, mentally.
Please join me in thanking the Blessed Mother for her intercession before God, for all the graces she bestows on souls and bodies. Let us give glory to God in the highest!
About the Author
Brian Caulfield is editor of this website and of Fathers for Good, an initiative of the Knights of Columbus.
Articles