Sorrow and Solace
Contact Us
Building a Better Lent: Part 6
This series was written for Knights.net, the Knights of Columbus digital portal. Looking for more great Catholic content and a faith-filled brotherhood? Join the Knights of Columbus today!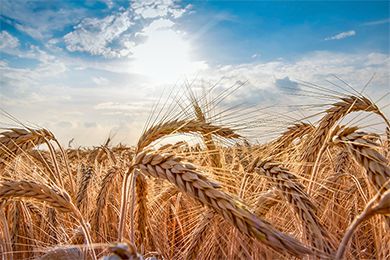 Psalm 126, from which the Responsorial Psalm for the Fifth Week of Lent is taken, is the basis of a traditional Protestant hymn with this final refrain:
"Going forth with weeping, sowing for the Master,
Though the loss sustained our spirit often grieves;
When our weeping's over, He will bid us welcome,
We shall come rejoicing, bringing in the sheaves."
Pain and suffering are part of the human experience, and Christ warned us that his disciples also will suffer for their faith. That's plenty of sorrow to go around! Yet as Christians, we believe there is more to life than the suffering we endure on earth, that the world does not have the last word. If we remain faithful to the end, we will rise again to new life, a life of eternal happiness with God – a life with no pain, no suffering, no sorrow.
Comfort the Sorrowful, one of the Spiritual Works of Mercy, reminds us of this truth. No matter what loss, what disappointment, what persecution or tribulation we face, we can find some solace in knowing that our fidelity to Christ will one day be rewarded. And if we wish to be more like Christ on this earth, we must not only endure our suffering patiently as he did; we must also be Christ for others by comforting them in their time of sorrow.
What action plan can we take from these readings?
Are we mindful enough of those around us and the sorrow they experience? Think of friends and neighbors who are grieving a death or divorce, dealing with job loss, or simply suffering loneliness, illness, or depression. Let's reach out and see how we might comfort them. There are not any magic words that remove their pain entirely, but just being present to them can work wonders. And if we pray for the guidance of the Holy Spirit, perhaps something we say will help them on the road to healing and wholeness.
What about our own sorrows? Do we keep them bottled up within us, or do we seek comfort from our faith? "Have no anxiety about anything, but in everything by prayer and supplication with thanksgiving let your requests be made known to God," St. Paul wrote to the Philippians (4:6-7). "And the peace of God, which passes all understanding, will keep your hearts and your minds in Christ Jesus." Let us always turn to our Father in prayer as the source of all consolation.
(Note: Your parish may have used different readings on the Fifth Sunday of Lent if it is following the Rite of Christian Initiation of Adults.)
Articles