There's a Psalm for That
Contact Us
Unleash the power of prayer in your life
This is the first of three articles about psalms and the modern man. Join us to read the rest of the series on our member portal, knights.net!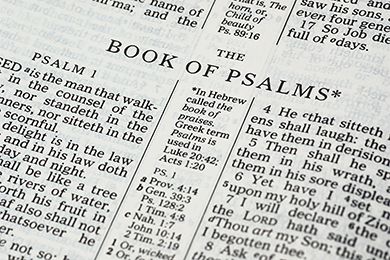 "Blessed is the man…"
These four words launch King David's "greatest hits." The 150 Psalms, traditionally attributed to the great leader of Israel, that explore every human emotion and situation. Don't be deceived, the Psalms are not all joy and worship; they also plumb the depths of lust, greed, envy, murder, guilt, sorrow and repentance. There's even one for when David espied and sinned with Bathsheba, known as the Penitential Psalm (51).
Long before there was an "app for that" there was a psalm to guide a man from the "valley of the shadow of death" (Ps 23) to the heights of proclaiming "everything that has breath give praise to the Lord" (Ps 150).
Indeed, "blessed is the man" who knows the Psalms like the back of his hand. We should all seek to be such "blessed" men.
Though the Psalms are "the prayer of the Church" so many of us know them only from the Responsorial Psalm at Mass. If you're like me, your mind can drift during this brief interlude between the first and second readings, and a moment after mouthing the last response, you may think, "Wait. What was that about?"
But as men of faith, we need to open the Psalms and be challenged from the depth to the height of our soul. This three-part series will help you understand:
What the Psalms are
Why they're so powerful
How to harness their power in your daily life.
So what exactly are the Psalms?
Grasping 3 Essentials
Let's look first at the unique features, content and structure of the Psalms.
(Note: Your pastor learned these in seminary and is obligated to pray through the entire Book of Psalms each month, so consider quizzing him.)
There are150 Psalms (the word psalms literally means "the praises"), originally written by David and other authors from 1000 B.C.-500 B.C. as hymns.
There are a number of types of psalms, including the following: praise, thanksgiving, lament, royal, wisdom and penitential (more on these later).
Psalms is the "book in which the Word of God becomes man's prayer," and they "continue to teach us how to pray" (Catechism of the Catholic Church, 2587).
But what can the Psalms offer us? What are they good for?
There's a Psalm for That
Just as apps help us keep track of calories, steps and other physical goals, the Psalms help us make progress in the spiritual life. There's a psalm for every season, emotion, hope or desire. Everything you struggle with in life—inner wounds, persistent sins, tumultuous tendencies, unbearable grief and loss of love—finds voice in the Psalms.
Consider these verses:
If you are sad: "Insult has broken my heart, and I despair; I looked for compassion, but there was none, for comforters, but found none" (Ps 69:21)
When you are angry: "Pour out your wrath upon them; let the fury of your anger overtake them" (Ps 69:25). (You might want to be careful about praying this one.)
Feeling that God has abandoned you: "My God, my God, why have you abandoned me? Why so far from my call for help, from my cries of anguish" (Ps 22:2, also quoted by Jesus on the cross.)
But that's not all.
The Psalms express the entire spectrum of joy, delight, and happiness. In his book on the Psalms, C.S. Lewis wrote, "The most valuable thing the Psalms do for me is to express the same delight in God which made David dance."
The Psalms can do this for us when we are:
Thankful: "The earth has yielded its harvest; God, our God, blesses us" (Ps 67:7).
Happy: "The Lord is my strength and my shield, in whom my heart trusts. I am helped, so my heart rejoices; with my song I praise him" (Ps 28: 7).
Grateful: "I praise you, Lord, for you raised me up and did not let my enemies rejoice over me. O Lord, my God, I cried out to you for help and you healed me" (Ps 30:2-3).
"Blessed is the man…" For the man who reads beyond these first four words, the "masterwork of prayer" will open for him a life-changing experience.
Your Quest:
Read Psalm 1, especially verses 2-3: "The law of the Lord is his joy; and on his law he meditates day and night. He is like a tree planted near streams of water, that yields its fruit in season." Ask God to show you how you might be more like the man of this psalm, a man who delights the Lord.
After Mass this Sunday, look back at the Responsorial Psalm and consider how it applies to your life or the life of someone you know.
Tell your pastor that you want to learn more about the Psalms and ask him to recommend one for you to pray and contemplate.
About the Author
Soren Johnson, a Catholic writer and evangelization specialist, is a member of Holy Family Council 6831 in Leesburg, Va.
Articles