Beside Running Waters
Contact Us
Texas Knights fund life-giving memorial
By Jeff Miller
This article was written exclusively for Knights.net, the members-only digital portal from the Knights of Columbus. Looking for more? Join the Knights of Columbus today.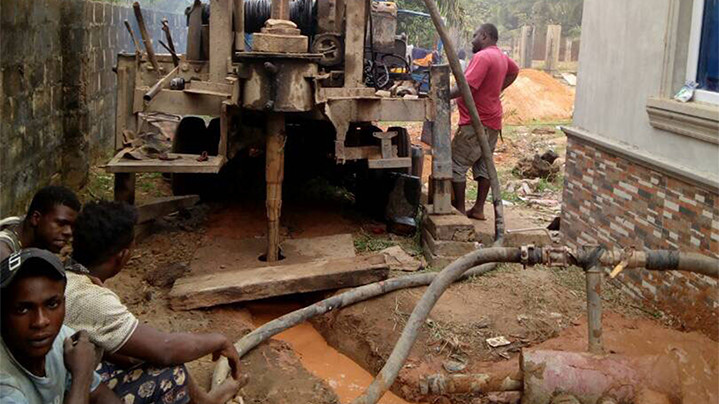 Joachim Edozie Okoli went by "Edo." Close to earning a law degree in 2016, he was a shining light to everyone in his family and in his community, the southeastern Nigerian village of Umuonyiuka, within the town of Ufuma.
An uncle, Eugene Okoli, was ordained a Catholic priest in 1993. Young Edo soon became keenly interested in the Church, serving at his uncle's Masses and mentoring the parish's other servers.
The Okoli family and all of those in Umuonyiuka were therefore devastated when Edo contracted hepatitis and, because the disease was discovered late, died in March 2016 at the age of 25. The night before his death, his grandmother sat by his side and heard him sing, "I have decided to follow Jesus Christ. There is no going back. No going back."
"We grieve, but we are reassured at least that at the moment of his passing that he realized it's Jesus who is the way and the truth and the light," said Father Okoli, Edo's uncle, who has served as parochial vicar at Holy Spirit Church in Duncanville, Texas, since July 2015. "We got some consolation from that."
When the parish community learned of the tragedy experienced by the Okoli family back in Nigeria, it joined the grieving process.
That included Holy Spirit Council 8157, of which Father Okoli is a member. Grand Knight Jim Richardson personally expressed the council's condolences, and the two discussed ways the council could honor Edo's passing.
Such circumstances often call for purchasing a plant or making a donation to a specific organization. Council 8157's efforts in this instance went far beyond that, thanks in part to a gentleman across the Atlantic.
Godrick Okoli, an older brother of Father Okoli living in England, suggested that a fitting tribute to Edo would be construction of a well that would provide clean running water to the people of Umuonyiuka. At the time, the 1,000 or so villagers had to draw water from a nearby stream for use in their home, the same water that Father Okoli and his siblings played in as children.
Father Okoli passed along to Richardson plans for such a substantial undertaking, to be totally absorbed financially by the family, and the Grand Knight took the news to the council early in 2017. Council 8157 voted to cover all of the costs of construction plus any potential overrun. As the council went through its standard procedure of two monthly votes to approve such an expenditure, a parishioner who wished to remain anonymous came forward to cover half the cost.
Construction on the project had to wait until after the area's rainy season, which runs from June into late September or early October. Work began in November 2017. When Father Okoli traveled home for his annual post-Christmas visit, the project had already been completed.
"Water is running," he said. "Very clean water. We are so happy."
Three 1,500-gallon tanks were built on the property of Innocent Okoli, Edo's father. They provide a stream of water to a common area that's accessible to the villagers. Because electricity in the local area is unreliable, the water pump is powered by solar panels.
"Everything is paid for," Father Okoli said. "We don't owe anything to anybody."
There's also signage that identifies the Edo Okoli Water Project. Janet Okoli — Edo's grandmother and Father Okoli's mother — is among those who are bolstered when they see the sign. The message to her is: He's still there; he's giving water to the community.
At Richardson's invitation, Father Okoli updated the council on the completed project during its May 2018 general membership meeting.
"Knowing that a thousand people now have potable water, you've done a tremendous deed," the grand knight told the gathering.
Father Okoli said in closing: "I don't have the words enough to explain myself or to say thank you. Just know it's only God who can reward you for all the goodness and endless devotion to people. My family and my community have benefitted immensely. They're overjoyed.
"You are angels they haven't seen before."
Jeff Miller is chancellor for Council 8157 in Duncanville, Texas.
Articles