Why do bad things happen to good people?
Contact Us
A personal look at the problem of evil
This article was written for Knights.net, the Knights of Columbus digital portal. Looking for more great Catholic content and a faith-filled brotherhood? Join the Knights of Columbus today!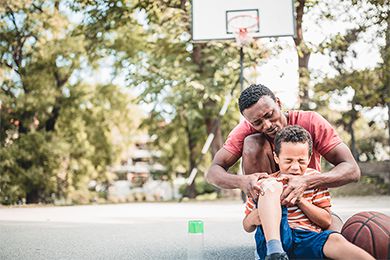 Suffering comes, ready or not. A sudden cyclone drops a bomb of rain in the Midwest, washing out homes, ruining farms and leaving people devastated, with no explanation from merciless nature. A disaster of this magnitude makes the daily trials of life seem small, but we suffer nonetheless from a fender-bender or termites in the basement.
We are constantly tempted to ask why bad things happen to good people. This age-old question has confounded great thinkers and caused many to reject religious faith while asking, "How could a good, all-powerful God allow such suffering in the world?"
For some, the answer is simple. We humans are not "good" and make trouble for ourselves and others. From the dawn of existence, you can trace the train of evils that has followed humanity through the ages.
In this view, we get what we deserve, and then we die.
A view more in keeping with a Catholic outlook acknowledges the devastating, ongoing harm of original sin and our own personal sins, but insists that there is still good within humanity and the world. When God created man and saw that all things were "very good," he did not destroy that good with the sin of Adam and Eve. He still loved them, cared for them and bid them to go forth and multiply, knowing the hardships they and their descendants would endure.
God could have kept humanity from sin and suffering, but in doing so he would have denied free will. Without free will we would be safe under God's thumb but lack the very thing that caused him to create us: Love.
Love must be freely given or it is not love; it requires free will and the possibility of choosing ill. God's very nature is love and he yearns for our love in response. As difficult as it may be to accept, God allows evil for the sake of a greater love.
God staked everything on his love for humanity and even offered his only-begotten Son to save us from the power of sin, evil and death. As Catholics, we have been taught this, we claim to know this, yet we struggle each day to really believe what God has done for us. Maybe we await a more modern, sophisticated savior, one in step with the feel-good temper of our times. A guru or life coach.
Certainly, Jesus offers ultimate wisdom for a good life, and answers prayers and watches over us with a loving care that we cannot comprehend. But these things are only part of his saving mission. He was crucified, died, buried and rose. That is the fullness of the Easter proclamation, the Gospel, the Good News.
To ask why bad things happen to good people is to stand at the foot of the cross and the mouth of the empty tomb. It is to touch the mystery of faith. In the end, it seems, God does not give an answer. He gives himself, at the Last Supper, on the cross, in the resurrection, in the Holy Eucharist and his everlasting gift of love. "Be still and know that I am God" (Ps 46:10).
Evil is strong. Sin is persistent. Suffering and death pervade our days on earth. But the tomb is empty and the gates of heaven are open. Love and life have won in Jesus Christ, and we are free to love in return – even when bad things happen.
About the Author
Brian Caulfield is editor of knights.net and of Fathers for Good.
Articles